The following non-HTTP services are provided to DCC Community:
File Transfer Protocol (FTP)

Windows Live Messenger

Yahoo! Messenger

External POP & SMTP access

Secure Shell (SSH)

Telnet

Remote Desktop (RDP)

Net2Phone (Note: Net2Phone users: Please use this version).
EXCEPT for the following period: (from 8:00 AM to 12:00 PM & from 1:00 PM to 4:00 PM) on the weekdays (Saturday, Sunday, Monday, Tuesday & Wednesday).

Windows Users:
You just need to have Microsoft Firewall Client installed on your machine and have it pointing to the following ISA server (during installation):

For Faculty & Staff: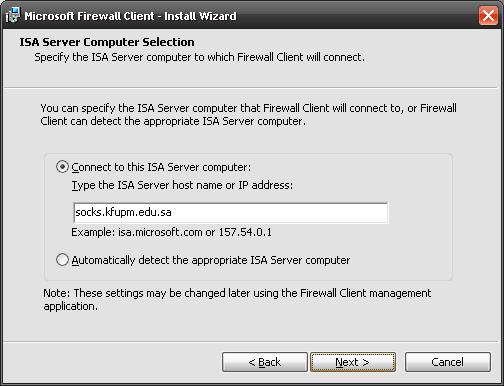 For Students: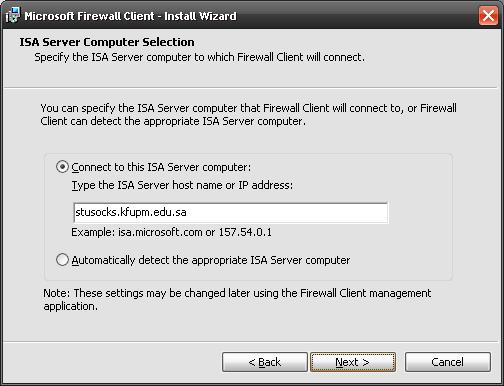 After Installation please uncheck "Enable Web browser automatic configuration"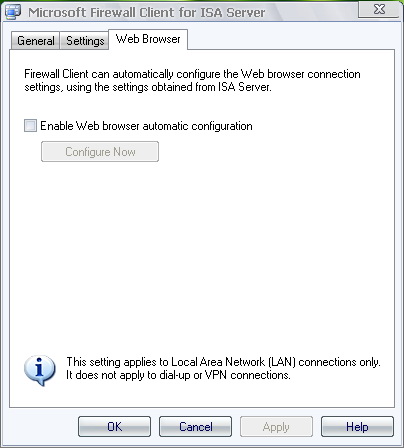 Proxy Setting on your Web Browser should be
Proxy: dccproxy.dcc.kfupm.edu.sa
Port:80
Note: This version of Microsoft Firewall Client supports the following versions of Windows:
Windows Vista

Windows Server 2003

Windows XP

Windows 2000

Windows NT
Non-Windows Users:
These services are still accessible from (Windows, UNIX, Linux, Solaris, ... etc) without Microsoft Firewall Client by using the proxy as a SOCKS4 server running on port 1080.
Faculty/Staff:
Server: socks.kfupm.edu.sa
Port: 1080
Server Type: SOCKS4

Students:
Server: stusocks.kfupm.edu.sa
Port: 1080
Server Type: SOCKS4